March 15, 2020

What Your Dental Team Is Doing to Keep You Healthy
Dear Valued Patient, Friends, and Family,
Your health and well-being are our top priority, now and always. In response to the coronavirus pandemic, we are closely following and adhering to precautions advised by the Centers for Disease Control (CDC) and the Massachusetts Department of Public Health.
We want to assure you that we have further reinforced our already meticulous infection control and sterilization protocols. We continue to ensure that our office remains a safe place for every patient. It's important for you to know that dentists are experts in infection control. For instance, we have been trained to prevent the spread of infectious diseases such as flu, HIV, hepatitis, and tuberculosis. The precautions we take every day will also help prevent the spread of the coronavirus. Infection control standards have always been a high priority at our office.
We follow precautions developed by the CDC to protect both health care personnel and patients. We sterilize all instruments after each use and clean each dental operatory after each patient visit, using surface disinfectants that kill all known infectious diseases, including coronavirus. Dedicated hand washing and one-time use disposable materials also help maintain a safe environment for our patients. The team and I routinely train in implementing these procedures.
We have also ensured that our cleaning team has enough stock of supplies. We have asked them to apply additional focus and time on cleaning door handles, faucets, and other items with high-traffic hand touches. Additionally, we removed magazines in our waiting areas as they are also a risk from frequent contact.
Seeing your dentist is a vital investment for your general health. Our office remains open to care for our patients following the above guidelines. If you have a fever, are exhibiting symptoms of respiratory illness, or have had recent contact with someone who has tested positive for COVID-19, you may be a risk to other patients or staff members. If you are experiencing fever (greater than 100.4), cough, or shortness of breath, please remain at home and contact your primary care physician immediately.
If you would like to reschedule an upcoming appointment or talk through any concerns, please feel free to contact our office at 978-745-9085.
Remember, the best way to protect yourself and your community is with everyday preventive actions, like washing hands often and disinfecting surfaces regularly. These actions will help minimize and slow the spread of the coronavirus.
For the most up-to-date information and guidance, please visit the CDC website at www.cdc.gov/coronavirus.
Sincerely,
Dr. A. Lichelle Aldana and team
June 30, 2014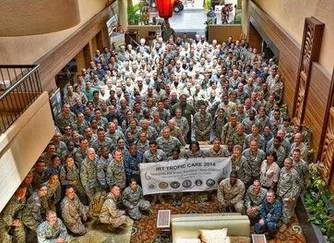 U.S. Army Sgt. Kyle Baylis, 455th Dental Company dental lab technician (left) and U.S. Army Maj. (Dr.) Anna Lichelle Aldana, 455th Dental Company comprehensive dentist (right), provide dental care for a member of the Kaua'i local community during Tropic Care 2014 at the Eleele Elementary School June 20, 2014, in Kaua'i, Hawaii. Active duty, National Guard and Reserve airmen, sailors, soldiers and Marines are able to train in a joint environment while providing medical care to patients during the exercise. The joint training allowed service members to perform medical services to include physical examinations, vision checks, and dental care to real world patients. (U.S. Air Force photo by Staff Sgt. Christopher Hubenthal)